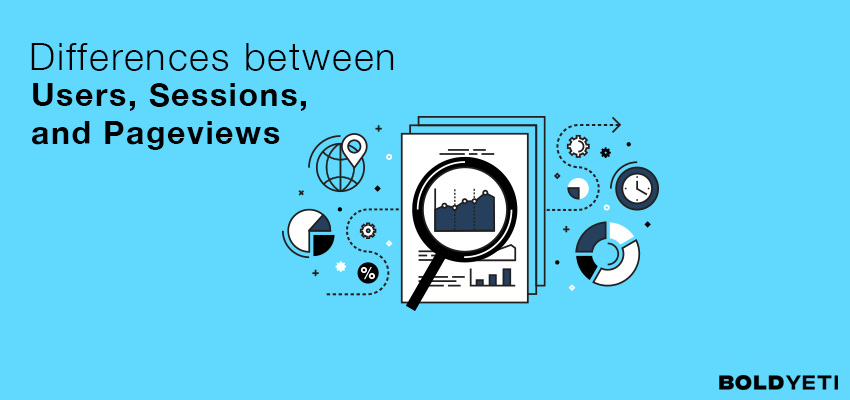 Differences between Users, Sessions, and Pageviews
Making your website effective and profitable is impossible without understanding how people are using it. Understanding how people use your website means understanding how to use Google Analytics. This article will cover fundamentals of Google Analytics and the differences of page sessions vs pageviews (  formerly called "Unique Visitors vs Total Pageviews") and what these statistics mean.
Let's create a quick example to help you understand how these things work.  Imagine if someone visits your website's "Home" page and after a few minutes they click onto your "About" page, this is how Google Analytics would read:
Users: 1
Sessions: 1
Pageviews: 2

What if that same user came back to your website the next day and he visits the same exact 2 pages? Your Google Analytics would read:
Users: 1
Sessions: 2
Pageviews: 4
It's important to note that a session "resets" by default after 30 minutes of inactivity or at the end of the calendar day.
User: It's important to know that a single person is defined as a user and can actually open multiple sessions.
Session: A session is created when a "User" visits your website. Sessions rarely occur once because people often visit your sites multiple times. Sessions can happen on the same day or over several days or months. Treat Google analytic sessions as visits.
Session Duration:  This is an averaged number and is tracked by the total time spent on your website in a single session by all website visitors. It is important to remember Session Duration is different than time on page.  
Users:  This is a unique (to the best of Google analytics knowledge ) visitors who may have had one or more sessions over various lengths of time on your website.
New Users: A visitor who did not have Google Analytics cookies when they hit the first page. When a user deletes their cookies and visits the site again, the visitor will be counted as a new user.
Bounce Rate: A bounce happens when a user only has a single session or visit. This is typically a bad thing because it shows your website did not prompt a user to dig deeper into your site.  A healthy bounce rate is in the range of 40 to 55 percent.